My life has gotten crazier. I've been back to work for a month now.
This year I work at the building that starts and ends the latest. This means I can clock off at 3:45. I usually don't leave the building until 4 o'clock most days. The earliest I get home is 4:30.
Here's the dilemma: Hubby has to be at work by 5:30 3 days and the other 2 days has to be at work by 6:00. Even though there are 2 days, he has to be at work at 6:00, he has to drop Know-it-All at Kung Fu by 5:30.
So how do I get dinner on the table?
There are 4 ways.
Tell Hubby what to cook

Freezer cooking

Slow Cooker

Food preparation during the weekend.
I'm to discuss the slow cooker method.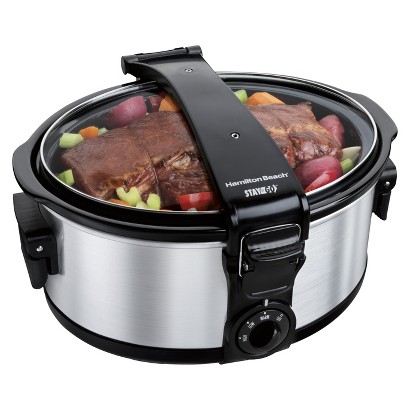 My slow cooker looks nothing like this slow cooker.






Once or twice a month, I make freezer slow cooker kits. The bags need to be labeled with the date, contents, and then cooking directions.
I then freeze them. When I'm ready to use the slow cooker kit out of the freezer and put it in the slow cooker. Sometimes I use a slow cooker bag. Other times I don't use a bag. It's easier to clean up if you use a bag.
You can certainly thaw your freezer kit in the fridge the night before. I don't because it takes longer for the frozen meals to cook. During the day, I am busy teaching so I don't always have time to call or text Hubby to tell him to turn the slow cooker on keep warm or when to do that. (If I tell him prior or leave him a note, it won't necessarily be done. I have to call or text him.)
Here are some great blogs to find slow cooker recipes that could be frozen:
Eat at Home
Sidetracked Sarah
The Sassy Slow Cooker
A Year of Slow Cooking
Please be careful with using potatoes. Russet potatoes will brown easier because the amount of starch in russet potatoes. Use red or yellow potatoes instead. They are less starchy.
Oh, some recipes have you put some of the foods closer to end of the cooking time, I make 2 bags with the part you put in first and then the other bag. I put both of those bags in another freezer bag.
As we eat some of the slow cooker freezer kits, I will start to post some of the recipes. That is I'll post the recipes of the ones that were hits with my family.